John and Sherry over at Young House Love have a podcast! In all honesty I never really took to them as bloggers. Hard to believe, I'm sure.  Their DIY style was too modern for me, they are really wordy and they seemed incredibly unrealistic (I'll touch on more of that in a bit). But it turns out all those words typed out on a blog are much easier to enjoy when spoken through their podcast. Sherry's voice is perfect for audio and she rambles on, like me, so I can totally relate to her thinking out loud moments.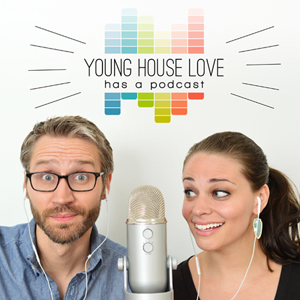 So about their being unrealistic…this is in no way hating on them. It's more of an astonishment and ignorance on my end.
– They made a career out of blogging at a time no one was doing it. They share in their podcast episode #8 that they have never and will never do sponsored posts. They worked in the marketing profession and didn't want to come home and keep "working" on a blog. They found other avenues to monetize their blog (by using their professional marketing know-how) and became widely successful just being themselves. Even the bloggers they interview in episode #8 couldn't believe they never did sponsored posts.
– Everything is picture perfect. I don't have a designer's eye. I'm more practical and analytical in my home decor. I'm sure John and Sherry are too. But they also have a way of picking things that are beautiful to look at too. They shop at hip stores (with coupons) and have that design background giving them the I-know-where-to-place-what for the perfect photo. I'm sure they hide clutter behind the couch for their picture perfect family room photo…but at first glance their life seemed nothing like mine.
Okay, enough negative. I love so much about this podcast I just binge-listened last week and I'm so sad I now have to wait a whole week for the next podcast. Let me share what I'm loving about their podcast
– They are the perfect couple. My husband and I have been married less than 5 years and we're still figuring how we "work" as a couple. It's an uphill battle but when we have those moments, days or weekends when we succeed it's amazing. But dare I say John and Sherry have the whole marriage thing down. They click so well, they know each other so well, and they still surprise each other and keep things lighthearted and fun. I love the one podcast when they both said "I'm Ron Burgandy?" and then went into a giggle fit because they didn't know the other one was going to say it.
– They are a great team. Sounds like the above, but bear with me. After DIYing, blogging, traveling and building a family for years together they know how the other one works. Sherry and John explain how they respect each other and the mutual living space they build together in episode #11 "When Design Styles Collide at Home". Hint: Don't come home with a wagon wheel coffee table. (That was a When Harry Met Sally reference, gold star if you got that!)
– They are honest. While everything on their blog seemed picture picture to readers (or maybe just me), they admit on their podcast it isn't. In episode #13 they talk about how they tackle overwhelming house projects. Their authenticity in explaining how they aren't perfect was like a slap in the face for me. Like, "Hello! They never said they were perfect, you only assumed they were because you aren't!" Ya, I've got some personal stuff I'm working through…haha.
– They've got the hook up. Genevieve Gorder, Tiffani Thiessen, Jenni Pulos and other DIY Stars are interviewed on their show. Not to mention questions answered by designers such as Jonathan Adler. I get my HGTV shows on Netflix, I am no longer inspired by the outdated design and just watch for the how-to projects. However, after visiting the YHL Show Notes page (where they have links to everything mentioned in the podcast), I have visited websites and seen interior designs that are new-to-me and I'm loving it! I hope Johnathan Adler gives them a percentage of my purchase from his website.
I could go on with more I love about the podcast (and I might do a second blog post just for that) but the final love would be:
– RESPECT. I've got mad respect for audio and video production. I considered a career in television production after being the producer of my high school TV station. But holy-deadline that stress is unbelievable! I knew if I went into the broadcast world I would have a heart attack by age 30… So kudos to John and Sherry and the amount of effort it takes to produce a weekly podcast. Your hard work is WELL worth it!
Now that they have this podcast I find myself visiting their blog, with Sherry's spunky voice in my head, reading along with their DIY and young family adventures. Turns out they were admitting their failures on the blog, I was just to rushed to read all that detail. The podcast, however, is a fun 30 minutes that is perfect for bluetoothing while putting a newborn baby to sleep. (Bluetoothing is a verb, right?)
So ya'll go check out YoungHouseLove Has a Podcast on  iTunes, Google Play, Stitcher and TuneIn Radio – or even on their website.
High Heels!